VOLUNTEERS

Receive hand-ons experience rebuilding and refurbishing computers by joining the TCC Computer Club. The club was founded in Novermber of 2009 and its Computers for Student Success program uses donated computers and parts to build and restore computers. The club gives these computers to deserving TCC students who cannot afford to buy their own and Non-profits.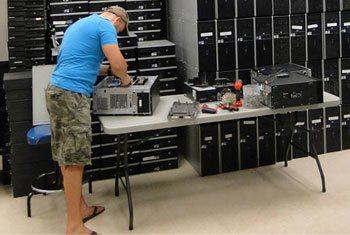 The TCC Computer Club currently is open Monday thur Friday from 12-5 PM in room E108 at the Lynnhaven building on the Virginia Beach Campus of Tidewater Community College. The Computers for Student Success program operates 25 hours a week, from 12-5 Monday-Friday and provides hands-on training under the supervision of Prof. Noah, student workers and more experienced volunteers.

You can earn your own computer by working 40 hours with the program. For more information about the TCC Computer Club and the Computers for Student Success program, call 757-512-5807, email: TCCCompClub@gmail.com or click Volunteer
to download a volunteer flyer.