PROJECT LIST

TCC Computer Club is very proud of the connections we have made in the community! Some of our most recent projects have included working with the Seton House Youth Shelters, Campostella Elementary School, The Beach House, and the Boys and Girls Club of Southeast Virginia. We hope to continue to branch out in the community, if you know of a non-profit organization that could use our help, please contact us, or pass along our information. We are here to help!


Seton House Youth Shelters

Seton House Youth Shelters expressed a need for a PC for their residents. We ended up providing them with 9 PCs for their offices, and fixing one for them.


Campostella Elementary School

Betty Clark, the parent volunteer coordinator for Campostella Elementary School, provided us with the names of 22 families of students that will benefit from having a computer in their home.
The Beach House provides treatment for Virginia Beach residents age 18 and over with substance use, mental illness and co-occuring disorders. The Beach House had computers on their wish list. They needed them for literacy training and preparation for the GED tests for the folks that benefit from the services of the Beach House. We donated 3 computers and were able to refurbish 2 of their own computers for them.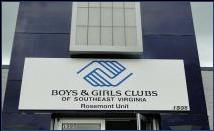 Boys and Girls Club of Southeast Virginia
We have a monthly agreement with Boys and Girls Club. On the 22nd of each month, we will donate two PCs to two families whose names have been chosen by the director of the program. While we were there, we discovered they had a shortage of computers in their teen-room, so we hooked them up with 10 more! No excuses for homework not being done, now!! Also, we were happy to install educational games and software on the computers they already had in their learning lab for the younger kids.


The Dwelling Place
The mission of The Dwelling Place is to provide safe and secure shelter for homeless families and assist them in achieving self-sufficiency. We were able to refurbish 15 of their computers and set up youth and resident labs with the computers for them.
The Judeo-Christian Outreach Center
The program upgraded the Judeo-Christian Outreach Center's lab area replacing the six older computers with 12 newer computers and monitors.